Published: 2012/04/01
First 100 miler!
I finished. Yay!
Distance: about 100 mi / about 160 km
Time: 30:56 hrs
Results: here.
Trail conditions: mostly well packed base with some fresh fluff on top. some punchy/dodgy stuff in flat light on the first day, some wet/dry overflow
Weather: Temps in the 20s F during the day, down to -15 F (?) during the night, started out with overcast, snow storm on Cache Mountain divide, glorious sun shine on day 2.
Food and Drink: ~11 liters of Gatorade (yuck!) + Coke, coffee, hot chocolate etc. at check points, 7 Cliff Bars, 7 GUs, 1 Snack Lock + Aid station food.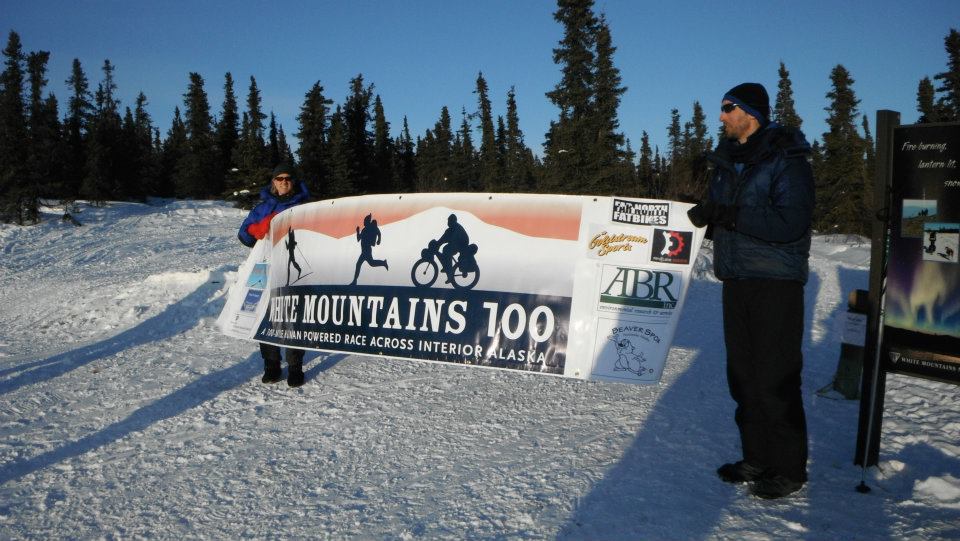 Race directors Ed and Ann at start and finish,
Courtesy of WM 100.
The White Mountains 100 course takes racers through a large chunk of the White Mountains National Recreation Area in Alaska's interior; about an hour drive north of Fairbanks. The area can be seen as Fairbank's backyard as many of us locals spend a lot of weekend time on these trails and in the BLM cabins scattered throughout this area. Just like the Little Su / Susitna 100, race divisions are bike, ski, and foot. Having learned from my Little Su experience, I planned to go out a bit slower, but I was still gonna run as much of the course as my body would allow me to do (none of the uphills though).
Making it to the starting line uninjured was my primary goal after last year's debacle of achilles tendon issues. In the week prior to the race I could hardly believe that it would actually happen - I would participate in a 100 mile race. I avoided overtraining and injury, now the question was whether the bit of training I got in was gonna be enough to make it through the race. Frankly, I had my doubts. I did get many miles in, but no run over 30 miles. My weekly mileage was anywhere between 20 and 60; in all honesty, I didn't even really keep track. Certain mile stones I had set weren't met. About a month before the race I went to a conference in Boulder, CO, and got really sick. Of all the trail running I intended to do there, I got only one good run in (up Flagstaff summit, I think; parts of that were more climbing than running as I didn't wanna stick to the roads). After that my training was mainly mental: sitting through talks with a fever trying to absorb knowledge. The following week I was invited to give a talk in California. While I got one good run in, the training again was mainly mental as this was also a job interview. When I got back to Fairbanks two weeks before race weekend, I had planned to do a long overnight run through the White Mountains as a last training effort. Well, it had snowed at least 2 feet (~0.6 m) and not knowing what the trail conditions would be, I wasn't willing to wade through 60 miles of that. So there I was, certainly well tapered, attempting a 100 mile race.
My alarm went off at 5:30 am on Sunday morning (3/25). I hadn't really slept much this night. Music I had listened to all of Saturday reverberated in my head throughout the night. I mentally checked, re-checked, and re-re-checked all the stuff I had packed and wondered whether something was missing (I spent a lot of time Saturday night after the pre-race meeting packing all my stuff, preparing snacks). Getting out of bed after this mostly sleepless night was not hard at all though; after all the thinking throughout the night I was finally pumped with excitement for the adventure ahead. All the doubts about whether or not I was prepared for such an undertaking were blown away; in my life I had spent enough time outdoors to be able to handle most situations I may run into. That's at least what I decided.
Getting up at 5:30 am gave me enough time to get on my race clothes, brew some coffee, pick up a few extra items from work and get to the race start. Jamie drove me out and had made 3 fantastic breakfast burritos of which I could finish only half. Along with the coffee I drank a liter of water to avoid my standard screw-up of starting a run dehydrated from the night. We arrived at the Wickersham Dome pullout parking at about 7:30 am. I signed in, warmed up and got my stuff together. I chatted a bit with Beat, a fellow foot racer, who a few weeks earlier had finished this year's grueling Iditarod Trail Invitational. Then it was already time to cross the Elliott Highway to get to the actual start line. A few more nervous adjustments, hand shakes with fellow racers who were excited about me doing the thing on foot (6/65 racers went on foot, 3 female, 3 male). All of a sudden the countdown started and off we went.
The start was the mess I expected given reports from previous years. 65 skiers, bikers and runners get funneled into the trail at the end of the parking lot. If you step off the hard packed trail, your leg disappears to about mid thigh in soft snow. Bikers were falling left and right, but the chaos sorted itself out after about a half mile or so. I am very happy the race starts with an uphill section. Not only does this mean that the last mile is going to be downhill, I also have to walk. That keeps me from starting out too fast in all the excitement, which I am prone to do. Good.
The first leg (17 miles) to Checkpoint #1 (Haystack wall tent, see map and profile) is a nice mix of ups and downs; rolling hills, I guess. I've run and skied this part many times so I was very familiar with the fun downhills and could just let it roll. At this point I was ahead of the other runners until at one point Laura shuffled past me. We played tag for a while until I passed her on a long uphill at around mile 11 (?) and then I didn't see her again. This uphill was followed by a bit of a plateau and then an incredible downhill. So much fun! A few more miles and I rolled into CP#1; 3:40 hrs into the race. A quick calculation suggested something around 4.5 mi/hr. That was pretty fast, but not unreasonable given all the downhill. I refilled my Gatorade (2 liters) and was ready to head out 10 mins after I had come in. No sign of the second runner until I left. I was in the lead, for better or worse.
The trail after CP#1 got much worse. While there was a lot of fresh snow on the trail before, it had a nice hard base underneath; and Interior snow is dry and fluffy which is of little concern for a runner. Now, however, there were quite a few wind drifts which had been messed up by >50 racers and I had little clue where to step without wasting a lot of energy with each stride. On top of this, the light conditions were really flat due to the overcast sky. There was hardly any contrast to make out features in the trail ahead of you, so it was a lot of guess work of where to step. All in all it was good I was so far back (compared to bikers, skiers), though. Most of the time I could follow a fat tire track and holes from a fallen biker or footsteps would flag sections of trail to avoid - still hard to see though.
The distance between CP#1 and CP#2 (Cache Mtn Cabin) is about 19 miles. There were a few bikers and skiers behind me and the runners are all fairly experienced, so I expected to see someone pass me during these 19 miles. The only persons I saw was Rocky on his way out and a couple of snow machiners ruining the indicators of trail quality. This was a pretty lonely section in gloomy light conditions. I had ample time to listen to my body and feel strange pain wandering around my knee joint and other places. I wondered whether I had made a huge mistake at some point and I was going way too fast and would soon blow up? Extrapolating my times put a best case scenario finishing time to around 24 hrs. Well that was just ridiculous; no runner had done this before. I must be going way too fast. This, other doubts, and curiosity - at around mile 27 - had me pull out the first emergency note my friend Chris had given me the night before. I felt physically fine but something was going off track in my head. The note read "If you keep going, I'll buy ya a keg!" I laughed out loud and kept running. Shortly thereafter the course drops into Beaver Creek - another excellent downhill time on messed up trails with prospects of severe injuries had I punched through at any one point. Sometimes you just gotta have faith, I guess. It's a race after all.
During all this time I had no idea how far the second runner, Laura, was behind. It could have been a mile or 5. Having no way of knowing really upset me and put a tremendous pressure on me. I am not used to being in the lead and certainly had no intention of being there during my first 100 mile race. I guess the old habits of competitive sports in my earlier life haven't fully gone away. But now that I was in the lead, I'd really like to stay there despite of any pressure. This thinking pretty much messed up my strategy of going a little faster than 3 mi/hr and having finishing the race as a prime objective. Oh well, at 4:57 pm, 8:49 hrs into the race I made it into CP#2, refilled water bottles, had a baked potato with all the stuff that was there and left 26 mins after I got in. Laura and a skier, Nancy, came in about 10 minutes after me and were about ready to leave when I left. It was good to see people. The next leg would lead me into darkness; something I always found to be a big downer during training.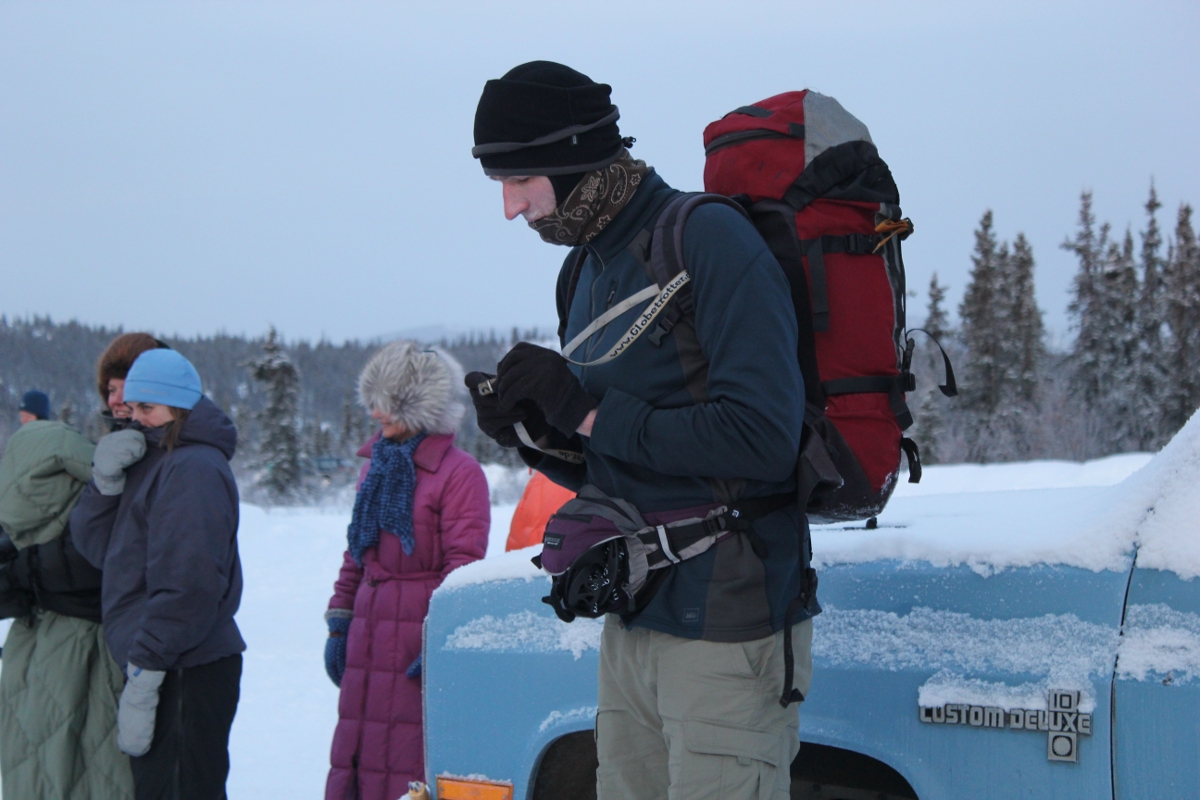 Thinking about gear. (Click to see approx. gear list.)
The next leg is also one of the most dreaded: after some sections of downhill the next 12 miles are pretty much constantly uphill to the Cache Mountain Divide, the high point of the course. After a long downhill (which I was looking forward to) come the ice lakes - 1.5 miles of active overflow and then it's another 7 miles to CP#3.
Chris, a biker, had fallen behind due to the trail conditions (he also came in from the wait list fairly late in the game) and left Cache Mountain Cabin a little after me. He passed me soon and I caught up with him again later when he had to push uphill. Before that I saw Anna push her bike at a really, really slow pace. At this point we were about 43 miles into the race and she looked very exhausted. Her plan was to make it to the warming tent at the end of the ice lakes. She seemed dead set on this goal and I let her push. My plan was to make it up the divide and let the medics stationed there know about her condition so they would check on her.
The dim light now started to fill with snow flakes. It had snowed a bit in the beginning of the race, but now it got consistently worse. I muscled my way uphill and was very happy to have some music helping me along. At one point I looked up and saw two snow machiners come downhill. At this point there was so much snow that I couldn't really see the tracks of the racers ahead anymore. The snow machiners were the race medics on their way to Anna. Somebody else had told them already, good! (They ended up giving her a ride out, she scratched) We chatted for a bit and they told me it was only another half mile or so to the top of the divide. Once they left I noticed how chilled I had gotten from the minutes of no activity. I was friggin' cold!
That was a dangerous moment! One that I was prepared for and had set a goal of when to dress for (in a couple hundred yards/meters). Yet, the chat with the medics happened. Clearly I could have pulled out my windproof gear then. I guess at about mile 50, more than 12 hours in the race, even a German can forget about efficiency. Well, not long after the medics had left, and I hadn't put out any energy I was throughly chilled, my hands took on a bluish color and stiffened up so it was about time to dress for the weather. I threw some hand warmers in my gloves to make sure my hands will return to a happy state soon. Since it was blowing and snowing - one may declare this a blizzard, certainly a snow storm - and I was walking into the wind I got out face mask and ski goggles too (the ski goggles, while nice, made everything unnecessarily more dramatic though).
I have no idea why I was still wanting to listen to music in this situation. My headphones interfered with everything else and Swedish hardcore music from 2001, while a nice soundtrack to such pictures when on your couch, didn't quite provide the calm and comfort I would have liked up there. I have to admit to a moment of panic -frostbite anxiety one may call it- when I looked at my blue, stiff hands - next time I need to skip a few songs to Jose Gonzales to embrace the grandiose awesomeness of the situation a bit more rather than focus on the panic. Oh well, I made it up the divide, followed what looked like a trail and certainly marked well where not to go. This section was characterized by phenomenal post holing. I was glad I had my hiking poles along which kept me from falling over every single time I went through the snow to over my knee.
At this point I noticed that it had gotten dark enough to warrant the use of a head lamp. This was ridiculously frustrating - only a few minutes ago I had stopped to put on all my clothes. Now I had to take my pack off again to search for my head lamp. This inefficiency, combined with cold, hole punching, being-in-lead-pressure, numb hands put me in a very unhappy place. I continued moving, punching through, moving along. Eventually I made it downhill far enough to get to a section of trail that wasn't as windswept anymore and under the 4 inches of fresh snow was a hard base (or so I hoped). I continued running.
All this time I had to think about how I now was in a true lead position - I was, if not breaking trail, at least flagging the poor sections of the trail. I didn't like that very much. But the downhill run plus the thought of the 2nd emergency note from my friend Chris got me into more and more of a happy place again (I also warmed up significantly as soon as I was out of the wind and running, i.e. putting out energy). Chris' 2nd note read "Awww, well I'll buy you a keg, no matter what!" - What a post-race outlook :)
I made it to the bottom of the divide where the ice lakes start, sat down on my pack and put on neoprene socks and YakTraks. The latter are completely useless on ice, by the way. I was lucky to have my hiking poles to stabilize me. Otherwise there would have been a few falls along the way. When I put on my second shoe, I heard a sled scratch on the ice behind me. I was happy to see a person, but my heart also sunk a bit realizing that all my effort was not enough to put more minutes between Laura and me. But then again, what was I thinking at this point? That I could beat her giving my pathetic preparation? I was looking at a pretty accomplished ultra racer there; she had just won the female foot division in the Susitna 100; only 3 male foot racers were faster than her. I have no idea why I thought I needed to continue to be ahead of her - entering the ice lakes marks mile 52 or so in the race - 48 more miles to go; all sorts of things could happen.
I got across the Lakes just fine, turned around and saw that there were a few minutes between Laura and me (she put on trash bags to make sure her feet won't get wet) and I kept moving towards CP#3 - Windy Gap Cabin. These 7 miles appeared really long. An interesting treat along the way was a spot were fans of the race camped in a tent and had put out candles underneath trees. It looked spectacular - though I have to admit, in the beginning I was worried about coming across some strange cult. Wouldn't surprise me in the woods of Alaska.

View from Windy Gap (when you're there during day light hours).
Courtesy of WM 100.
I got into Windy Gap at 00:12, 3/26 and it was still snowing. In addition to the volunteers I found race director Ed in the cabin as well as two bikers who seemed to settle in for the night, or were thinking of scratching. I felt fine, ate my meatball soup refilled my bottles and warmed up a bit. To my surprise, Laura didn't make it into the CP until 25 mins after me. WOW! At that instant my strategy changed from recharging in the Cabin for a bit longer to gotta-get-outta-here-and-keep-going. Why? I thought I could just walk through the night to CP#4 in about 7 hours and keep increasing the distance between Laura and me at the rate I had done since the ice lakes. Not unreasonable, but totally dumb. The least I should have done is ask what had taken her so long. Yet, I was totally trapped in my own little world and left 8 minutes after she got in without even looking at her much (33 minutes in this checkpoint for me).
Between Windy Gap and Borealis, however, I fell apart. I left Windy Gap too soon not giving myself enough time to recover from the Divide effort. I hadn't been out on the trail for a mile or two when I noticed that I felt like crap. The meat ball soup wasn't sitting right, I didn't wanna eat or drink, I had chafing issues I needed to tend to, it got friggin' cold once the clouds disappeared (I had dressed down to my normal race clothes in CP#3, temps dropped to -15F or below so I had to put on more layers again). All this and other things put an enormous tax on my positive outlook. I kept scrambling along, turning around every now and then to see if I could make out Laura's headlamp. We didn't talk much whenever we passed each other, but I was in awe when she jogged past me at about mile 70. It was a good moment to feel destroyed - I sat down and noticed the onset of dawn and was amazed by the little bit of aurora I could see at 5 am in the morning. The struggle of the night was soon to be over!
The total low point, however, came a bit later. About 3 miles from Borealis cabin, when a blister popped in my left shoe I realized I was still in my neoprene socks from the ice lakes. Idiot! In my rush of trying to stay ahead, I forgot to get out of the swimming pool socks. I didn't want to risk any further blistering so I sat down to swap socks on the trail and do a bit of a first aid thingy. My shoes were frozen solid, so it was really hard to get out. Anyway, I ended up finding my way out of the shoes, fix a band aid with duct tape to my soggy feet and get into fresh socks. Now I had to get back into my frozen shoes (with one foot that had a hurting blister; stuffing the shoe into my jacket while operating may be worthwhile next time to soften it). Turns out massaging frozen running shoes for a while gives them enough flexibility to receive a foot. Outside temperatures were still really low, so my gloves were frozen solid at the end of this exercise (should have gone near the body too) and I needed more hand warmers etc. It's crazy how one thing leads to the next when you screw up once. The duct tape I used to fix the padding to my foot ended up too tight (remember, rush == screw up!). Being 3 miles out from Borealis I got worried about seriously messing up my toes (aka numb, frost bite). I stopped again and ripped it all off. This whole operation cost me at least 20-30 minutes. I could have seen Laura leave Borealis, had I come in by that much earlier which would have lifted my spirits a lot. One of the positive things that came out of this: The AMAZING Alpenglow of the last bit of the White Mountains before Borealis Cabin I got to see when the sun finally made it up.
I got into CP#4, Borealis Cabin, at 8:14 am - 24:06 hrs into the race. My plan was to spend some more time there to recover from the efforts of the night and I hoped for temperatures to rise outside. It worked well; I bounced back. I left Borealis at 9:22 am and made it to the trail shelter (9 miles) by noon - about 2.5 hours. A 10 minute stop at the trail shelter served for a refill on salami, cheese, cookies and fluids. By then ambient temperatures were way too hot. Certainly well above freezing with bright sun shine into my face. Apart from being blinded and getting sun burned (chapstick does not replace sun block), I felt really well and was ready to go the last 11 miles as hard as I could to keep my spot and come in with a good time - before the race my hope had been something between 30-35 hours.
Knowing the trail is always of great mental help. I could break the total distance of 11 miles into more manageable chunks: to Wickersham Wall, from the top of the wall to the bottom of the long hill, down hill ... The hiking poles were awesome going up Wickersham Wall (at the bottom of which I had stepped into overflow way over my ankle, good thing it was hot!), which took me only about 25 minutes, certainly less than 30. After that I just kept flying up those hills looking for evidence of how far ahead Laura would be, worried about the other runners behind me, thrilled by the fact that I will certainly finish my first 100 mile race and in awe looking at the landscape around me. It's so pretty out there - especially in skin blistering sun shine! Jamie and Taryn greeted me 1.5 miles in and jogged back to the finish line with me. I finished the race after 30 hours and 56 minutes; well within my hopes!
1 Mile to Finish sign, Me and Jamie about to cross the finish line, Finished :D,
Courtesy of WM 100.
After the race I was fully exhausted: I had the shivers that I only had as a kid when I played basketball really hard for an entire day. It remained like this for quite some time of this day. I felt some nausea a couple hours after the race, but fortunately that went away and a healthy appetite returned rather quickly. My feet were soaked and not all that pretty after the race. Actual blistering was limited to the Neoprene sock screw-up, though. Changing into fresh wool socks every now and then seems to be good enough blister prevention on such distances for me. Getting out of the car after the drive home proved to be a real challenge though - I was super stiff and sore after sitting in the little Subaru for an hour; fortunately I didn't have to drive myself. As much of the ride turned into a nap, I didn't do anything to move around a bit and keep from stiffening up too much.
After going to bed at around 10 pm I slept until 3 am when I was woken by a throbbing in my foot that radiated outwards from my bad blister. I had doctored it up with Neosporin and Band Aids, but the skin was still covering it up. As this was the foot I stepped into overflow with, it didn't surprise me that this messy affair began to get inflamed. The issue at hand was that I had to leave my bed and go downstairs to get all the first aid stuff. Not an easy task at that time - stairs proved to be a major obstacle given my level of soreness. I cut what was loose and treated it with Neosporin. Well, I should have dumped some Iodine on there right away as that's what I needed to do the next day to kill off all the crap that continued to grow in there. Since then it's healing just fine. Amazingly, I couldn't go back to sleep, because I was so excited about the finish and had to process more than 30 hours of novel sensory input. Another two hours of napping from 6-8 am brought my total sleep to 7 hours for that night.
It's now been 6 days since the end of the race and I am mostly recovered. On day 1 after the race I was mostly in bed. Given my lack of preparation and race experience my level of soreness didn't surprise me. Much of the pain also came from the by then humongous blister on my foot and the wind/sun burn in my face. My mobility improved exponentially over the next days and I mainly keep it quiet still because this stupid blister is in a spot where I can't put much weight on. Anyway, next week I'll be doing stuff outside again.
Altogether it was an amazing race - it was amazing that my first 100 mile race was a race! The race is extremely well organized. The check points are at just the right distances, the volunteers and fellow racers are outstanding - lots of help and camaraderie. The race course is very diverse and packed with fun and challenges. There were many moments were I was surprised and scared of my competitiveness given my lack of experience. The thought of, "Well, I just wanna finish," was pretty much replaced by "I wanna do really well here," at CP#1. And then I raced, which ultimately messed me up. Anyway, next time I've gotta go faster in the first 60 miles so I get to see the limestone past windy gap in the day light ...